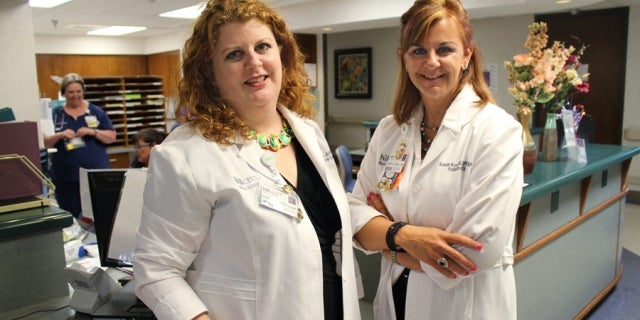 A Bridge Between Patient and Medical Care – The Palliative Team at Hillcrest Medical Center
by

admin
Karen Kochell, APRN-CNP, ACHPN, recalls a moment she will likely not soon forget. Sitting among the children of one of her patients as together they made the decision to take their mother off life support, Karen says she felt the hand of the eldest adult child reach out to hers. "He said, 'Karen, are you OK?'" she remembers. "'You have the toughest job.'"
In his moment of loss and grief, this family member cared so much for Karen, a member of the Palliative Care Team at Hillcrest Medical Center, that he wanted to know how she was feeling. This moment is a reflection of the team's work every day to help patients and their family members navigate through difficult decisions resulting from trauma or chronic health conditions.
"We are experts in communicating with patients and family members about what all the different specialists are saying, helping them understand and put the whole picture together," Karen explains. "Taking the patient's perspective – what's important to them? What are their goals and values? And helping the medical team decide what the right treatment choices are for them."
The Palliative Care Team at Hillcrest is an interdisciplinary team that includes physicians, nursing specialty, a social worker, a chaplain and a pharmacist, who work together to alleviate suffering for patients and inform family members. Palliative care is not hospice care. Not all of the patients they see are terminal. "That is a very common misconception," Karen says.
The nursing care between hospice care and palliative care can overlap. With 25 years' nursing experience in the Emergency Department and hospice, Karen says palliative care is a natural fit for her. "To me, it is intuitive," she says. "It's right. I think a lot of time the medical system loses the patient. We start treating a disease and we forget who the patient is and forget to talk."
She is joined on the team by Nydia Parks, APRN-CNP, ACHPN. "I was drawn to this as an ICU nurse, realizing there are organs that are failing and the person is not just their liver or their brain or their lungs," she explains.  "I was naturally doing palliative-type care, wanting to get to know the patients as a whole being."
Together, Karen and Nydia offer nearly 50 years of experience caring for patients and their family members in their greatest time of need. They also bring expertise unlike any other nursing specialty in Oklahoma, as the only two Advanced Practice Certified Hospice and Palliative Nurses in the state of Oklahoma by the National Board for the Certification of Hospice and Palliative Nurses. "It's an exam that I think signifies a dedication to the profession as well as competence in your specialty," says Karen. The entire Palliative Care Team at Hillcrest is board-certified.
For the patients and family members, Karen and Nydia are the bridge between the medical staff, an endless list of questions regarding medical updates, treatment options, and potential outcomes from treatment based on evidence-based medicine. "We will be the constant face you will see," explains Nydia. "We are the big-picture people. That's part of being master communicators: We sit and listen."
Understanding a clinical world, when you previously may not have been a part of one, takes time. Karen and Nydia will spend between 60 and 90 minutes sitting and talking to patients and family. "I think the biggest gift we give the patient and family members is time," Karen says.
"We're strictly there to inform," Nydia adds. "We are not there to tell them what to do. We're there to answer any and every question, to help them make the decision."
While the decision may be a difficult one, as Karen shared earlier, it is a job they both agree has its rewards at the end of the day. "We get people who are in attractable pain calm and comfortable," Nydia shares. "We get families in distress calmer. I'm convinced we have the most gratifying job."