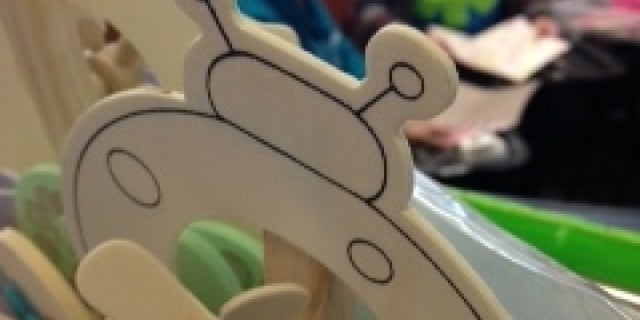 The Art of Healing
by

admin
On a Tuesday morning at 9:15 a.m., Celina Johnson, a teacher and mother of two, sits in Surgery Waiting at Hillcrest Medical Center. She and her husband woke at 3:30 a.m. that morning to make the hour-and-a-half drive from Colcord, Okla., to arrive at the hospital by 5:45 a.m. for his scheduled back surgery. Following four months of pain in her husband's sciatic nerve, this surgery, they hoped, would restore his ability to stand, sit and walk normally and return to work as an electrical lineman – a job that takes him on the road across the country to restore power when disasters like hurricanes hit.
"This is much better than sitting and waiting," Johnson says to volunteer Sharon Allred as they thumb through bright sheets of patterned paper.
 
"This helps you get out of the left brain and into the right brain," Allred shares. "It helps decrease pain."
Within minutes of meeting the woman strolling through Surgery Waiting with a cart full of supplies, Johnson pays no attention to the minutes ticking by slowly on the clock. Instead, she is immersed in an art project for her husband.
"I saw the little books and thought, 'Well, that's different,'" she says of deciding what she would make. "It's creative, I like doing this."
Allred is right at home, showing Johnson how to fold the papers just so, adding playful stickers, ribbon and a sweet message to pull it all together.  For seven years with a cart of possibilities, Allred has been finding people at Hillcrest just like
Johnson who are waiting – many times, anxious and feeling helpless.
"My hope is that just through the experience of working with the people, that I can help lighten their spirits a little bit," she says of volunteering six hours every week to bring the Art of Healing program to patients and their loved ones at Hillcrest and "help distract them from the worry."
A retired cardiac RN, Allred became certified to be an artist in residence in 2006 at the Creative Center in New York, where she was specifically trained in art therapy. It was her dream to bring art back to the community to hospitals and clinics to help people heal in a whole new way.
She often encounters families who are waiting together but not necessarily comfortable doing so. She picks up a piece of paper and pen and shows them how to get started. "They start telling stories and all of the sudden, you realize people are interacting," she says. "The art somehow is a neutral space that brings them back to that loving space."
When she met 6-year-old Ella, her family of more than 20 was gathered together in the corner of the waiting room. Ella was the first, and appeared to be the only one, to take her up on a project while waiting during her great-grandfather's surgery. "It's fun," she says of her heart project. By the end of the surgery, nearly every member of the family had created their own hearts, strung together as a collective "feel better soon" gift for the great-grandfather in recovery.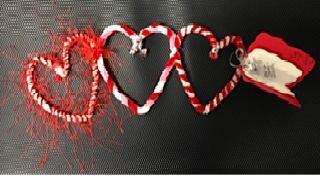 Something about folding paper, bending pipe cleaners into bright, cheerful hearts, and running your hands over hand-written messages etched into craft paper calms the anxiety, fear and worry. The art, Allred says, is healing.
"I hear many times, 'You have no idea how valuable this was today,'" she says. "'This really did help heal our family. I didn't know anything could be so powerful.'"
To Allred, their smiles and words keep her coming back week after week into patient rooms and waiting rooms. "It feeds my soul – it's really addictive," she says. "There's no way you do art that it doesn't touch you."
The Art of Healing program is brought to Hillcrest by generous donors. If you would like to contribute to Art of Healing please makes checks payable to AHCT (Arts and Humanitities Council of Tulsa). In the memo line please indicate Hillcrest Art of Healing Program. Donations can be mailed to 101 E Archer St., Tulsa, OK 74103 – attn:  Joel.