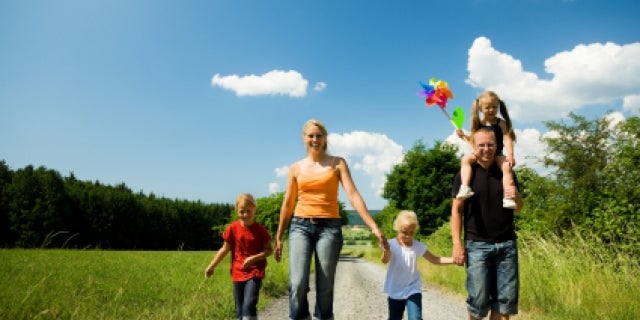 7 Secret Benefits of Walking
by

admin
According to the American Heart Association, 1 in 2 men and 1 in 3 women are at risk for heart disease. One major risk factor leading the charge, researchers say, is our lack of regular physical activity. To combat these statistics, National Walking Day encourages companies to enlist their employees to wear their sneakers to work and spend at least 30 minutes walking April 3. Walking is free, easy to start, and enjoyable as a sociable exercise with friends and co-workers. Not only is walking heart-healthy, it is an activity with other secrets benefits.
Adds Years to Your Life
Researchers have found for anyone 40 and older, regular physical activity, like walking, can add two to seven years on your life, regardless of weight. The study evaluated data from 650,000 people. Of those who only added a small increase of physical activity, such as brisk walking for around 75 minutes a week, 1.8 additional years were added to their life. For those who walked the recommended amount of physical activity by the U.S. government, 150 to 299 minutes a week, life expectancy increase by 3.4 years. The biggest jump in life expectancy was found among healthy-weight participants who exercised according to the recommendations by the U.S. government, adding 7.2 years to their life expectancy.
Indicator of Your Health
Did you know that over the age of 65, how we walk – also known as our "gait" – is an indicator for our overall health and how long we may live? Researchers have measured and studied the relationship between gait and lifespan in several studies, finding a consistent association between how fast we walk and how long we live.
Slows Mental Decline
Alzheimer patients who walk 5 miles a week can slow cognitive decline and protect brain structure over 10 years, researchers have found. For healthy people with no cognitive decline, walking at least 6 miles a week produced the same results. The explanation? Researchers say our brain volume is a critical indicator of our brain health. High brain volume means our brain health is being maintained by healthy, active cells. Low brain volume means cells are dying. They have found a direct correlation between exercise and high brain volume. While walking more than 5 or 6 miles a week is great for your heart, it did not indicate increased protection of the brain.
Improves Sleep
If you suffer from sleepless nights, you may want to add a good walk three to four times a week. Researchers have found exercise like brisk walking for 30 to 40 minutes, four times weekly, can greatly improve the quality and length of sleep for people who experience difficulty falling or staying asleep. Walking is a drug-free alternative to sleep disturbances and promotes an overall healthy lifestyle, such as a healthy weight and reduced stress, which can improve sleep as well.
Makes Your Happier
Speaking of less stress and feelings of anxiety or depression, walking can make you happier almost instantly. Researchers in Texas conducted a small study, finding depressed patients who walked 30 minutes on a treadmill reported improved moods and a greater sense of psychological well-being immediately following their walk.
Fights Diabetes
Exercise along with a healthy diet is a one-two punch for preventing diseases like diabetes. Researchers have discovered women who worked up a sweet at least once a week reduced their risk for developing diabetes by 30 percent. Walking doesn't just have to be a stroll around the park. Walking on the treadmill at a high incline or increased speed can get your sweating and your heart pumping. In addition to helping maintain a healthy weight, one of the best ways to stave off diabetes, brisk walking increases the number of insult receptors in our cells, which helps to regulate blood sugar. For anyone living with diabetes, walking can help control the progression of the disease as well.
Boosts Immune System
Participating in a 30-minute walk on National Walking Day increases the number of immune system boosting cells in your body, also known as leukocytes. These cells help fight off infections every day and keep us healthy and active. By reducing or eliminating our physical activity altogether, we compromise our immune systems and are more likely to get sick.