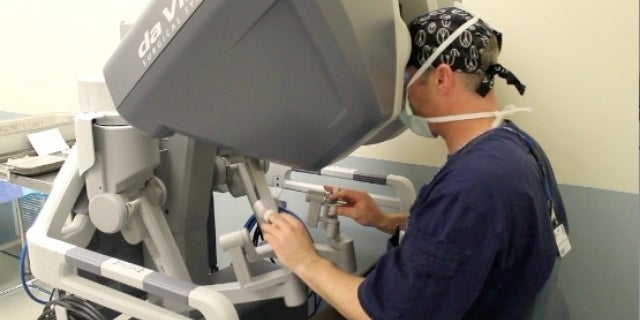 "Up and Running Again" – Faster Recovery, Less Pain with Robotic Surgery
by

admin
Mary Connor, 69, fully expected to have to take her time while recovering from her second hernia repair surgery. Four years earlier, she had her first traditional hernia repair surgery, which required an incision across her stomach. "My mind was saying get up and get going, but my body was saying let's lay down," Mary says of her recovery. When the pain and hernias returned three years later, Mary was told she was too high risk for traditional surgery. Over the last year, her pain continued to worsen, requiring her to pull back on normal activities to not agitate her hernias.
"I didn't know anything about robotic surgery," admits Mary upon meeting Hillcrest Medical Center general surgeon Dr. Eugene Dickens. Her doctor had referred Mary to Dr. Dickens in the hopes she would be a better candidate for robotic surgery to help ease her pain and improve her quality of life.
Dr. Dickens explained the procedure and how fewer and smaller incisions would help her recover faster than her last hernia repair. "I thought, 'Wow!'" she says of learning she would likely go home from the hospital the same day as her procedure.  
Three days following her surgery, Mary says she was feeling back to normal and free of the pain she had endured for the last year. "I was up and running again," she adds. From returning to her regular 30 minute walks with her friend to shopping and "anything I wanted to do", Mary felt more like herself and ready to return to the daily activities she so enjoyed.
The grandmother of two, ages 12 and 16, stays active and busy watching after her granddaughters during the week and says she is enjoying the freedom of not feeling afraid she will do something that could bother her hernias. "I'm really thankful to Dr. Dickens – he did a wonderful job," she adds.