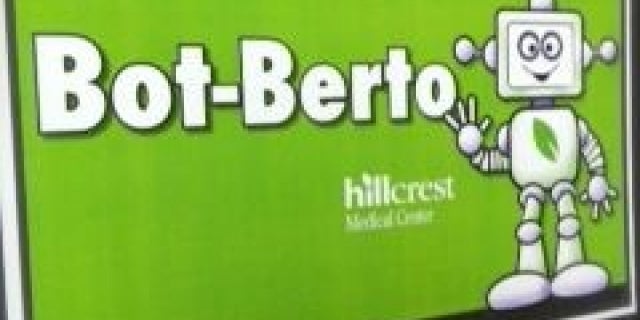 7th Graders Name Hillcrest's Surgical Robot
by

admin
Students from San Miguel Catholic Middle School in Tulsa had the exclusive opportunity to name Hillcrest Medical Center's da Vinci Robotic Surgical System this week in the "Name Our Robot Contest".  Twenty-three 7th grade students entered the contest, sharing the name they would choose and why.  Here are a few of the entries we received.
The Comets of the Robots: "You leave early from the hospital and you cannot miss dinner."
-Almir, 14
Luis: "I got surgery on my appendix when I was 5 years old."
-Luis, 13
Speedy-Hillcrest: "It will do the surgery fast so I named it Speedy-Hillcrest."
-Ulyses, 12
Surg-o-bot-1000: "It is a surgical robot so that for surg-o-bot and 1000 is for all the people is going to do surgical on."
-Alex, 13
The Operator: "I really thought it was cool, and because operator is in the name and it is performing operations."
Luis, 14
Dr. Reconstruct 3000: "He can construct body parts that need to be attached together.  And 3000 it's going to be used until then."
Alex, 13
Antiseptic: "Preventing infection, decay, or any other kind of diseases."
Gilberto, 13
Bot-Berto: "Every time I name something I mix my name, which is Alberto with what it is.  That makes Bot-Berto."
Alberto, 12
S.A.R.M: "S for Surgical, A for Advanced, R for Robotic, and M for Machine."
Jose, 13
Roboblitz: "It sounded like a mystery name.  It is a mystery to me."
Kenia, 13
Drumroll please…. And the winner is… Bot-Berto!
Thank you to everyone who entered the contest and helped us celebrate this state-of-the-art technology available at Hillcrest Medical Center.  
Students joined the marketing team and members from the operating room at Hillcrest Medical Center, along with nursing students from the community to see what the daVinci Robotic Surgical System can do.  They had a great time trying out the controls themselves, while enjoying gelato from our new Coffee and Gelato Café.
For more information on the daVinci Robotic Surgical System and procedures available at Hillcrest Medical Center, please visit our website: //www.hillcrestroboticsurgery.com/